PROJECT:
 Understanding The User                                        
ROLE:
 Research, Planning, Study Execution                                        
DURATION:
 2 years
With a deep desire to understand how to delight customers - their policyholders - I worked with my employer's marketing team at to launch a comprehensive journey mapping initiative in 2018. The effort started with an internal analysis of all customer touchpoints throughout key departments and radiated outward to qualitative and quantitative research studies with customers directly. This research included in-depth survey analysis of over 400 licensed independent insurance agents, as well as moderated customer focus groups across the state.
This journey map and 'Moments of Truth' helped me refine customer personas to determine MVP for the digital implantation of new agent and policyholder portals.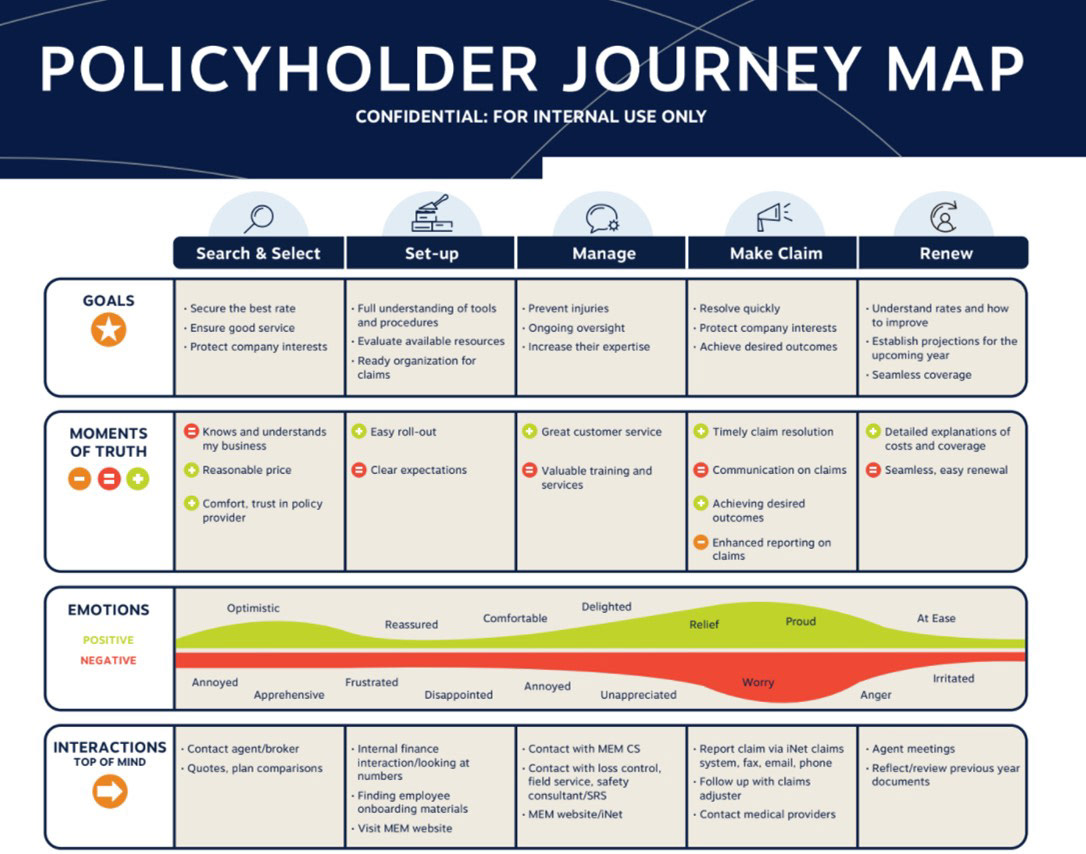 ​​​​​​​
In the first example, secondary research and phone interviews were conducted with customers to understand how they interacted with their workers' compensation insurance carriers online. Depending upon the size of the company needing insurance coverage, there were three clear roles or user types who typically interacted with the carrier online for the purposes of 1) filing claims, 2) obtaining safety or loss prevention information, and 3) bill payment or financial managers. 
While building out these three personas, the importance of improving the usability of the correlating online activities became very clear. These personas were used when recruiting focus group participants, scoping out MVP for the portal project, and in user testing groups prior to launch.
Designing and executing a high-quality focus group not only takes planning, but a well understood goal that's also aligned with a product value. From participant selection and solicitation, to moderation and feedback analysis, I understand what it takes to dig for key insights and guide conversation to better understand user needs and intents.
The impacts of discovering user insights in a focus group often has cascading impacts on other related efforts. For example...
Click here
to find out the results from a usability study I conducted with users to find out if new designs within an updated workflow impacted usability for long-time customers.